I love dotty spots. I love polky dots. They are adorable! (And honestly, aren't spots and dots so happy???) Here are a few of my polka dot friends...
I love these
Shop Sweet Lulu
cupcake liners
.
And I am the happy owner of these pretty
polka-dotted capris
.
We also have this
dotted wrapping paper
from Paper Source.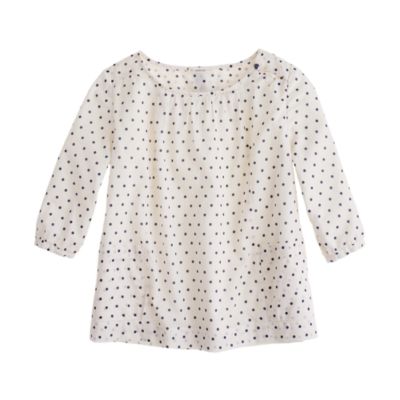 And of course, I am dotty for this
J Crew top
.
Click
here
to look inside this cool book.
Before we put this Mini Boden polka dot coat on Craigslist, would anyone like to buy it? Negotiations start at $50, but we can adjust slightly. The size is 9/10. It is very gently used.
This is the Anthropologie apron my parents bought me for my birthday.
I hope you are eager to surround yourself with pretty speckles! Do tell, what are your favorite things to have in polka dots? Do you own a pair of polka dotted shoes? A spotted rug? A dotty dress?
Be sure to check in Monday! I am off to the design district in Dallas tomorrow! Oh, what fun!
~

Madeline